Custom steel hand stamps make customization easy without complicated machinery or tools. Made from long-lasting, durable steel, our hand stamps are a versatile, easy way to make a custom mark.

Customization Made Easy
Durable's custom steel hand stamps are a popular solution for adding your trademark, logo or makers mark to just about anything. Capable of marking a wide range of materials (metal, wood, leather, and more), our hand stamps have proven to be a versatile and cost effective marking solution.
Custom steel hand stamps are ideal for smaller manufacturing companies that don't require a large amount of part marking, hobbyists, or anyone else who wants to make a permanent mark because they are an affordable option for adding nearly any letter, number, symbol, or design. Hand stamps are available in a variety of character styles and images so the options for customization are almost limitless.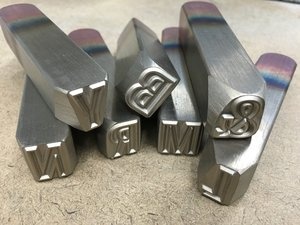 The Value of Steel
We manufacture steel hand stamps because steel offers users a number of benefits. Some of the benefits of steel construction include:
Long life
Durable material
Clear mark
Economical price
What Our Customers Are Saying
Gabriel Hargett, owner of Oowee Products, says "We needed someone to create a custom hand stamp letter set from our specifications. To match our branding on our hand crafted leather beer sleeves we needed someone that understood low volume, custom manufacturing. Durable Technologies took our font designs and turned them into a beautiful hand stamp letter set that we used to custom stamp people's names onto our products. At the Stagecoach Festival in Palm Desert, CA we had two-hour long lines for these custom stamped leather sleeves. Not only was the brewer sponsor happy, we were thrilled at the product interest, and the customers were excited to get a personalized sleeve. We stamped over 2,500 sleeves during the three-day show. Everyone went away happy."
Learn More
Contact us for more information about custom steel stamping dies, hand stamps, and presses.
This post was published on October 19, 2016 and updated on October 19, 2016.