Durable Technologies' pneumatic impact presses offer users an easy to use and simple to set up high volume part marking option with excellent repeatability. With a wide variety of pneumatic press dies to choose from, users can find a good fit for their application that meets all of their needs.
About Pneumatic Presses
Pneumatic presses are a popular marking solution for higher volume marking applications in part because they combine the flexibility of steel pneumatic press dies with significant advantages in terms of control, safety, and reliability. They are also a low maintenance marking solution.
Featuring semiautomatic operation via hand controls, pneumatic press packages offer both precision and repeatability in an economical package.
Pneumatic Press Dies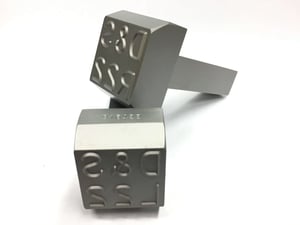 Part of the flexibility of a pneumatic press comes from the fact that they can make use of shank stamps, steel type with a holder, or numbering heads for sequential marking. Specific marking requirements will dictate which option is best, but all of the options available are created using high-quality materials.
Our pneumatic press dies are machined from high-quality, long lasting steel and can be customized to meet your requirement. Numbering heads, however, are also manufactured from long-lasting steel but they are designed for serial numbering and sequential part marking, so they aren't ideal for all applications.
What Our Customers are Saying
Michael Eugley, Tool & Die Designer at GE Energy, says "I knew Durable Technologies from a previous employer and when we needed help we turned to them. They know the right questions to ask so that we do not miss any critical issues during the design of the custom steel stamping dies."
Mr. Eugley also says that "Durable Technologies has bent over backwards to help, their timing and delivery is excellent, and everyone has a great attitude and is very professional, and we especially value their depth of custom die making experience. Durable now supplies us with all of our dies which is the best compliment we can offer."
Learn More
Contact us to learn more about our pneumatic impact press packages or any of our other direct part marking solutions.
This post was published on November 6, 2018 and updated on October 15, 2020.