Softline Brand Partners, located in Minneapolis, MN, is a leather goods manufacturer dedicated to creating premium products like wallets, Dopp kits, keychains, luggage tags, valet trays, cup warmers, and placemats in a variety of materials.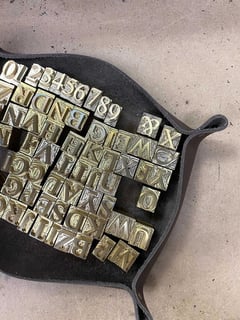 As a vertically integrated design and manufacturing firm, one of the key services Softline must offer their customers is the option to personalize small leather goods products with their company logo or personalized monogram.
But how do you personalize leather goods?
Kelsey Nelsen, Softline Brand Partners Product Manager, found Durable Technologies online and now uses VisiMark's custom brass printers' type to give their customers exactly what they are looking for.
Ms. Nelsen says, "we use VisiMark brass type sets, typically with large type up to 48 point fonts with our Kwikprint hot stamping machine to create the customization our customers specify."
Brass type is a cost-effective, all-purpose hot stamping type suitable for marking most materials including leather goods, books and book bindings, plastics, paper, and even wood.
Brass type outlasts softer alloy metals like zinc and lead and lasts longer when stamping with heat and/or pressure like Softline uses with this Kwikprint machine.
Brass type also produces a much sharper, clearer mark than the cheaper alloy hot stamping types. Alloy type might save you some money up front but brass has a much better return on investment in terms of cost and impression quality.
Ms. Nelsen adds, "the VisiMark team was easy to work with and Matt offered great communication about what was next in the process and made sure my expectations were set correctly. We had some complexity to deal with, so their prompt follow up was appreciated."
"We had to match old type sets and styles that we had. Some were vintage old type sets, well worn, and we were worried that it would be near impossible to match the lettering exactly. But Matt and the VisiMark team got it right. We couldn't be happier with them as our partner moving forward."
Click here to learn more about Durable Technologies' brass printers' type and other methods of personalizing leather goods.
This post was published on January 14, 2021 and updated on January 14, 2021.