Sometimes your customer puts you in a bind, delaying a project and then when approved, expects you to make up for all of the lost time spent awaiting their decision. Pacific World faced just this situation when required to add lot traceability to its products.

Enter Durable Technologies. When faced with delays and a compressed time schedule, Pacific World leaned on Durable for direct part marking design and manufacturing expertise, and they delivered.
Pacific World Corporation is a leading innovator and supplier of proprietary beauty care products to the food, drug, mass market, and value retail channels worldwide.
Marco Flores, Senior Buyer, located at their manufacturing facility in Tijuana, Mexico, needed Durable to come through in a big way. He says, "we had a shortened time frame to implement the lot level traceability requirements from our customer. We asked Durable Technologies to help us create a trial order of steel type for evaluation in our production line to ensure that we met all of our customer's requirements. Which we did."
"They (Durable) were flexible with the steel type blank size and we changed the body dimensions a few times per our customer's request in order to get the best mark possible."
"The next challenge was to get a partial order of steel type delivered in two weeks' time for immediate implementation into production. Durable, and Matt Martin, in particular, were great to work with. We finally placed a large order and asked them to ship the partial within two weeks' time; Durable delivered the partial order on time and the balance a few weeks later as promised."
Pacific World Cosmetics needed interchangeable steel type with 3/16" tall sharp face characters to directly mark a cardboard insert in their blister pack for nail care products. They needed to mark a month and year code permanently into the cardboard so that all products from their new production line could be traced back to the original lot if necessary.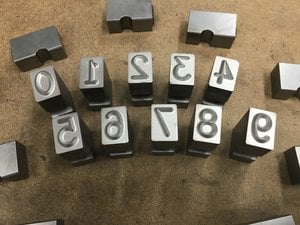 In their high-volume environment, Pacific World needed a low-cost mechanical solution. Their application did not require a printing machine with consumables. Simpler was better in this scenario. The operation consists of loading the product into the packaging line, applying a thermoformed pre-cut blister pack shell, and then adding a coated cardboard insert that attaches to the blister pack after subsequent pressure and heat-sealing stations. The type holder and steel type setup was attached to the sealing plate that compresses and heats the blister pack and cardboard insert.
Mr. Flores states, "Durable Technologies' customer service and support throughout the entire process, including following up after the order had shipped, exceeded our expectations. We now have a trusted marking partner in Durable."
Learn More
Click here to see how Durable Technologies can help you make your mark with steel type and holders. Please contact us if we can be of help with your part marking requirements. From cosmetics to contract packaging, electronics manufacturing to blacksmithing, we can help you make your mark!
This post was published on March 5, 2020 and updated on October 15, 2020.