From individual makers and artisans who want to add a lasting signature to their creations, to industrial manufacturers who need part numbers to survive harsh environments, metal stamps can be found making a mark in a huge variety of applications.
Why Metal Stamps?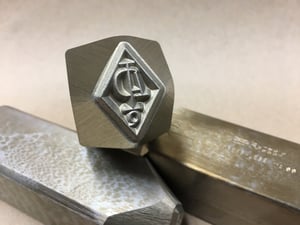 Metal stamps can be customized with more than just letters. Metal stamps can take the shape of symbols, numbers, and even graphics (like logos). Regardless of what is actually on the stamp, metal stamps offer users some distinct advantages.
One of the greatest advantages is longevity. Great force is applied to the top of a stamp to create a mark so it is necessary for the material the stamp itself is made from to be sturdy enough to withstand the constant abuse. Steel stamps are solid and durable enough to offer users a long service life of creating crisp, distinct marks.
The quality of the mark itself is another advantage of steel stamps. When properly used, metal stamps create very clear, crisp, deep marks. Since the marks are clear and the surface is permanently marked, metal stamps are often used to mark parts in industrial settings.
Metal stamps can also be implemented in a couple of ways, offering users the flexibility to match their application to the marking method that makes the most sense for them. For instance, an artisan might find that hand stamps give them the flexibility to customize individual pieces while a manufacturer might make use of an impact press to mark part numbers on a high volume of parts. Metal letter stamps can be made to work with either marking method depending on your preference, volume, and budget.
Learn More
Learn more about steel stamps and holders in the new, free Direct Part Marking: Personalization Guide! Follow the link below and fill out a short form to download your copy of the guide. Or contact us to request a quote.
You Might Also Be Interested In
Which Steel Hand Stamp is the Right Stamp for You?
Customization with Hand Stamps
This post was published on July 24, 2018 and updated on June 3, 2019.