In addition to the number of direct part marking machinery options that Durable offers, some direct part marking methods also require additional tools. Some methods that do not require a marking machine also require tooling to achieve their marking results. Because of the prevalence of marking tools, it is worth taking a look at some of the most common tooling.
Steel Stamps and Dies
Steel stamps and dies are some of the most commonly employed marking tools available. Stamps and dies can be used for marking methods like hand stamping, presses, and other marking machines. In general, the stamps and dies are machined to be used in a specific type of machine, or in the case of hand stamps, to be used together with a holder or simply held in your hand. All of these stamps can be customized with part numbers, patent numbers, trade names, trademarks, special lettering, images, or other data.
Type and Type Holders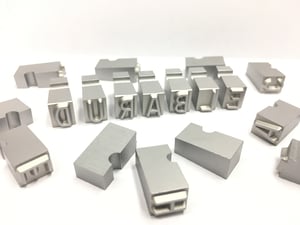 Commonly used together with our impact presses, but also available for use with our hand held holders, steel type is typically a single letter, number, or character that is designed to be used with various types of marking presses. This type of tooling is most often used in applications where interchangeable information is required to be marked. Steel type holders, on the other hand, are designed to hold multiple pieces of steel type and can be fitted into the marking machine.
Holders for Safety
For hand held direct part marking methods (like hand stamping), a holder is often used (and always recommended) to promote operator safety. Hand stamp holders provide a more comfortable grip and make the stamping processes safer by shielding the user's hand.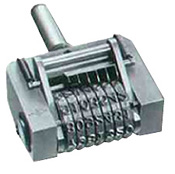 Numbering Heads
Typically used for high volume, repetitive, sequential marking, numbering heads can be used to mark product codes, part numbers, date codes, and more into a variety of materials. Numbering heads are manufactured to meet application specific requirements so there can be a wide range of styles and configurations (alphanumeric text, hand held versus press style, manual versus automatic advance).
Stencils and Inks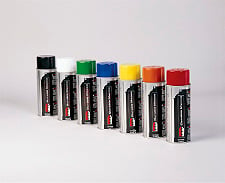 Industrial stencils are often used to mark product identification, shipping information, or other valuable information that requires a clear and permanent mark. They are typically made from oilboard, mylar, brass, PVC, or LDPE, and are often packaged as interchangeable number and letter sets. Custom copy is available as well.
There are various types of inks available for direct part marking as well. Some inks are designed to withstand caustic or harsh environments, while other inks are designed to be removable. Industrial inks can be used for traditional marking methods such as rubber stamping, stenciling, and more. Our HandJet portable ink jet printer is a popular alternative to stenciling when higher volume marking requirements can justify the investment.
Learn More
There are many kinds of marking tools available depending on your budget and marking requirements, so contact us to learn more about all of our marking tools, machinery, and complementary products.
This post was published on July 24, 2019 and updated on May 27, 2020.