Hand held ink jet printers are ideal for marking applications where clear, permanent marks and portability are a must.

Hand held ink jet printers offer flexible and mobile marking solutions for printing on a variety of surfaces and materials. The specific application requirements will determine which of our four lines of handheld ink jet printers is right for any given application, but there are some general guidelines that are useful when selecting a marking system.
Size
All of our handheld options are, of course, portable. There is some variation in size, however, and, for some applications, this can be crucial. For instance, our line of Speed-i-Jet printers is fully mobile and is small enough to fit in your pocket. The HandJet, on the other hand, is still handheld and portable but not small enough to fit in a pocket.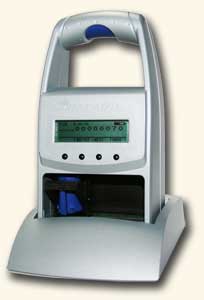 Graphics
For many in-the-field applications the ability to mark graphics isn't necessary. Serial number, date coding, and other marks don't require graphical capabilities, but if your application does require the ability to mark graphics then an option like the JetStamp Graphic 970 might be a good fit.
The JetStamp Graphic 970 model boasts a 1/2" x 2-1/2" print area and can print alpha-numeric text, sequential numbers, automatic date and time, as well as barcodes and graphics onto a variety of substrates.
Durability
All of our handheld ink jet printers are manufactured for durability, but some applications call for rugged construction that can stand up to any environment. For those applications we recommend the HandJet, a battery-operated, rugged printer.
If you'd like to learn more about hand held ink jet printers contact us today.
This post was published on January 19, 2016 and updated on December 1, 2016.