OEM thermal transfer printers heat coated thermal transfer ribbons to create an image in the areas where the ribbon has been heated. After heat has been applied, the ink releases from the carrier and transfers to the substrate, typically flexible packaging or paper labels. This marking method is ideal for directly marking information onto packaging, like expiration dates or bar codes.
Thermal transfer ribbons are typically manufactured with an ink formulation of wax, wax and resin, or resin alone. The ink material these ribbons are made of are specifically designed to melt when passed through an OEM thermal transfer printer and adhere to the package or label being printed.

Common Applications
In most cases, OEM thermal transfer printers use thermal transfer ribbons to mark dates, prices, lot numbers, and bar codes directly onto packaging. Typically, these codes are printed directly onto the primary, flexible package, or onto paper labels which are then applied to the secondary package (corrugated boxes. for example).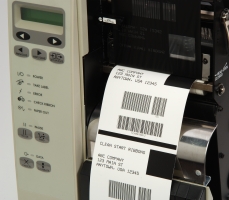 Thermal Transfer Ribbons for Common Printer Types
We supply 100% compatible ribbons for virtually every OEM thermal transfer printer, including near edge printers such as Videojet® DataFlex®, Markem® SmartDate®, Domino® V-Series, Allen Coding®, Norwood® Jaguar, and Linx®; also, flat head label printers like Zebra®, Datamax®, Sato®, Intermec®, Open Date®, and more. Our ribbons are a drop in replacement for the OEM and, in most cases, you won't have to make any adjustments to your printer settings.
Our ribbons are ISEGA certified and approved for direct and indirect food contact under FDA regulations 21 CFR 175.
We Stand Behind Our Quality
We believe our quality, price, and service differentiate us from the competition. We value the relationship we have with our customers and our products and service prove it!
Best of all, we offer FREE TRIAL SAMPLES of our thermal transfer ribbons! Call us today toll free at 866-344-7721 for your free sample.
Learn More
Contact us to learn more, to request a quote, or to request a free sample.
This post was published on June 8, 2017 and updated on June 8, 2017.