Space Tech Inc. in Tulsa, OK is a custom metal part fabricating and machining company that specializes in short run production parts. Some of their key customers required direct part marking of part numbers, serial numbers, and other identifying text. Hand stamps were proving to be costly and extended their production time waiting for special order marking dies to arrive. Paul Suhomske, owner of Space Tech Inc., needed to find a better way.
He searched the internet and found Durable Technologies' dot peen marking solutions. They bought an e9 Series bench top dot peen marking system with a rotary option. See a rotary dot peen marking system in action below:
Paul knew he needed this machine to be very flexible in terms of being where he needed it when he wanted it so they mounted it on a heavy-duty cart to create a mobile dot peen marking station that could be quickly moved from one lathe to the next as production schedules dictated.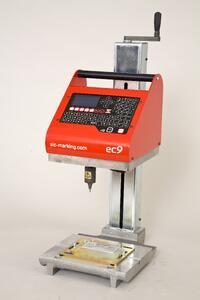 Mr. Suhomske says, "The e9 Series dot peen marking system is very easy to use. We had it up and running in an hour and it has been maintenance free so far. We mark part numbers and the customer name on outside of the parts which are for residential and commercial natural gas applications and made from 1018 or 1215 grade steel connectors which are often times zinc plated. We have 1-6 minute cycle times to machine a part so we have plenty of time to mark each part during the machining process.
The most important benefit to us is that during machine time (or DMT) the operator is not busy so there is really no labor cost to mark the parts. Since labor is our highest cost in the shop this made a big difference. Now we can mark parts quickly, with no custom marking tooling, and with high quality. Adding this dot peen marking system has made us faster, lowered our costs, and made our parts better which has helped us generate more business. We are thrilled with the dot peen marking system and with Durable Technologies. This has been a great investment for us."
Each e9 series dot peen marking system comes with a fully programmable electronic controller that includes an industrial membrane keyboard with PC require. These dot peen marking systems are ideal for marking alpha-numeric text and logos and best suited for low to medium volume marking requirements.

The ec9 benchtop model is designed for marking applications involving small to medium size parts, including many types of materials from plastics to metals up to 62 Hrc. Available with many options, including a rotary D axis for holding round parts (up to 70mm O.D. and 90mm I.D. and 6 lbs.), the ec9 marking machine is suitable for a wide variety of marking requirements. Fully self-contained, its integrated software is extremely user friendly with self-explanatory icons.
Benefits of e9 Series Benchtop Dot Peen Marking Systems:
Marking of all kinds of materials up to 62 Hrc
Electrically driven - no air supply required!
Low cost of ownership - few consumables
Robust and reliable - steel / cast iron column & base
High performance - high speed
Simple and user-friendly - powerful integrated software
Easy programming
Suitable for aerospace applications (creates very little stress on the parts being marked)
Options For Durable Technologies Dot Peen Marking Systems:
Nameplate and/or tag holder/fixture
Rotary attachment
Barcode reader
Extended column
Rotated column 180°
Extended maintenance kit
For more information please contact us, we are happy to help you make your mark.
This post was published on April 8, 2015 and updated on January 23, 2017.