Whether stamping a serial number or adding your own personal touchmark, many different types of marking tools are available to meet any direct part marking requirement.
Steel Stamps and Dies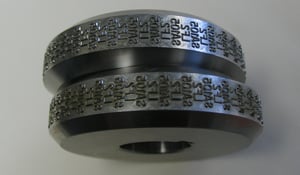 Steel stamps and dies can be used for various industrial manufacturing applications. Easily customizable and able to be paired with a range of marking machines, steel stamps, and dies are ideal for just about any volume and budget.
Steel stamps can be manufactured for marking on flat, curved, concave, or convex surfaces and can be used to mark anything from logos to serial numbers.
Roll dies are designed to be used on an engine lathe, turret lathe, or screw machine and can be engraved to mark one or more lines of interchangeable text or any other custom copy.
Embossing dies come as a set of male and female dies that fit together to create raised marks and are most commonly used in the sheet metal industry.
Steel Type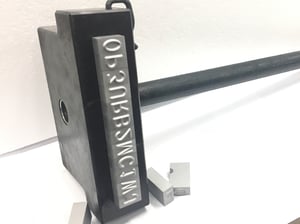 Steel type is often used in industrial traceability requirements to mark interchangeable text. Things like dates, part numbers, and other variable information are stamped by arranging the steel type in the correct order in a holder.
Type holders can be used in conjunction with a press or handheld versions that are paired with a striking hammer.
Steel Hand Stamps
Steel hand stamps are best used for low to medium volume applications and are an easy, affordable way to add a personal touch.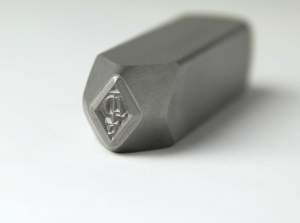 Easily customizable with anything from custom fonts to touchmark logos, steel hand stamps are versatile and can be used anywhere from industrial manufacturing settings to artisanal applications.
Industrial Grade Inks
Industrial grade inks like mil spec and rubber stamp inks allow for marking on a variety of substrates, including both porous and non-porous substrates that can be otherwise difficult to mark.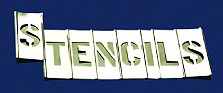 Industrial grade inks come in all kinds of colors and serve a number of purposes, from printing onto frozen food packages to marking pipes in industrial settings. Some inks are waterproof, and some are designed to remain legible in even the harshest environments: exposed to chemicals, physical
debris, abrasion, and even freezing and thawing.
When paired with industrial stencils, industrial inks are often used to mark product identification, shipping information, or other valuable information that requires a clear and permanent mark.
Numbering Heads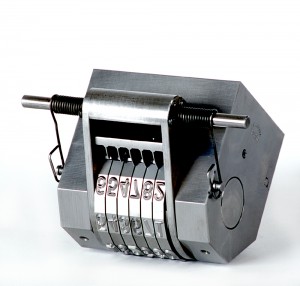 Used for stamping repetitive information (such as a part number) or sequential marking (serial numbers), numbering heads are ideal for high-volume production marking.
Our numbering heads are available in various styles and configurations for both numbering and lettering.
Learn More
Many kinds of marking tools are available depending on your budget and marking requirements, so contact us to learn more about our marking tools, machinery, and complementary products.
This post was published on November 1, 2022 and updated on November 1, 2022.