Finding a complete marking solution that satisfies all of an application's requirements can be tricky; however, combining reliable and long lasting steel type and holders with the appropriate marking press can often be the ideal solution for permanently marked information.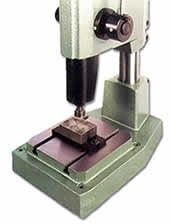 Impact Presses
An impact press is a great piece of machinery because of its versatility. Impact presses are most often used for part marking and stamping applications, but they can also be used for riveting, staking, forming, punching, bending, crimping, piercing, and more.
Impact presses can be found in nearly every manufacturing environment. From heavy duty industrial factories to custom metalworking shops, impact presses are an ideal solution for a lot of companies marking needs.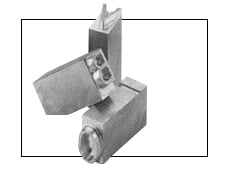 Steel Type and Holders
What gives the impact press its scope is how easy it is to pair it with the right type, stamps, dies, and holders to satisfy the applications requirements. Our steel type and steel type holders are manufactured for long life and durability, which allows the marking package to hold up over time in even the most rugged environments. And because we manufacturer a huge range of standard type and holder options, as well as custom manufacturing and design capabilities, we can help you assemble the appropriate package to include a press, type holder, and interchangeable type for a complete marking solution!
Click here to see how Durable Technologies can help you make your mark with complete marking solutions for any application! Or contact us if we can be of help with your part marking requirements. From agriculture to bookbinding to electronics manufacturing to blacksmithing, we can help you make your mark!
This post was published on February 3, 2016 and updated on October 15, 2020.