People that are music fans know and love classic artists like Eric Clapton, Stevie Ray Vaughan, and Tom Petty. If you are a guitar player and you want to play classic songs using vintage instruments, you care about the quality of your guitar pick. You want to use what looks and feels like what the classic giants used.
Robert Graham, owner of Bob's Buttons, creates custom guitar picks just for these types of classic guitar playing fanatics. For Bob's customers, only a guitar pick made and marked in the same vintage style the classic greats used is good enough.
Robert says, "The guitar pick product I make is purposely done in a vintage style, as used by classic artists in the 60's and 70's. Picks have been foil stamped this way for decades. It's not as flashy as laser printing, but this process captures a specific look familiar to classic rock fans."
Robert uses an AAmstamp foil stamping machine and News Gothic font brass printers' type from VisiMark, a division of Durable Technologies.
"I have printing dies made for large runs, but they take a while to make and are cost-prohibitive for small quantities. That's another reason why I appreciate being able to buy the VisiMark brass printers' type from Durable.
Durable's brass printers' type has higher hardness and sharper edges compared to zinc and lead type, so they last longer and give us better quality impressions on the guitar picks," states Mr. Graham.
"Durable Technologies is clearly the best choice since custom brass type is hard to find since we don't have a lot of domestic manufacturing options. The quality, service, good selection, variety of options, and the ability to customize the order so I buy only what I need and not a complete set made the experience of buying from Matt M. and his team a very good one. Plus, the turnaround time was great!"
"Another way Durable helped me was being able to make 12 point type that fit in our existing 18 point body holder. This meant we did not need additional tooling and saved that cost.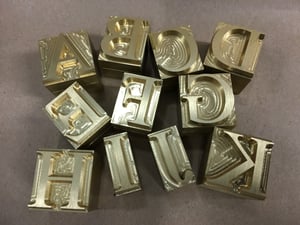 Durable even sent me samples to test 12 point type in our 18 point body while only requiring a small charge. Durable has the ability to customize small orders of brass type which makes my job so much easier and my customers are very happy that they do."
If you're interested in buying custom guitar picks from Robert, you can reach him at bobsbuttons@gmail.com or call 217-663-8506.
Click here to learn more about Durable Technologies' brass printers' type.
This post was published on January 6, 2021 and updated on January 7, 2021.