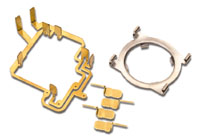 Astron Stamping, located in Pepperell, MA manufactures precision metal stampings for OEM's in the medical, automotive, plumbing, and many other industries. Astron Stamping shares many things in common with Durable Technologies including the fact that both companies have been in existence for over 100 years.
George Nieves, Design Manager at Astron, recently had a problem. He needed custom steel dies for a high profile job and he didn't have much time to get them. "We needed a custom steel stamp to imprint a UL logo and Intertek stamp into a new part we were producing for the first time for a new customer. We had some old dies that needed to be updated and Durable said they could do it. Within one day we sent the dies to their factory in Worcester, MA and they modified them to our customer's specifications," said Mr. Nieves.
"These new dies were used to stamp a 302 stainless steel component for a solar panel assembly. The customer has very tight specifications on location and quality of the stamped mark, and the dies from Durable worked perfectly. In fact, we are now in line to get three new jobs from this customer and Durable helped make that happen."
"We had another rush job where we needed an identification marking die for a full hard brass-stamped washer including text and numbers. Durable turned these dies around in one day. We ordered backup dies in case there were any issues. Turns out we didn't need them. We stamped over 500,000 parts with no die chipping or degradation of the quality of the mark," says Mr. Nieves.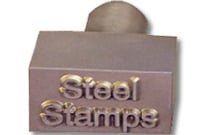 Durable Technologies' steel stamps and marking dies are uniquely engineered for marking most all industrial products and materials. Each steel stamping die blank is expertly manufactured to the customer's specifications. Our custom steel dies meet any user requirement for marking machines, punch presses, press brakes, and other machines. Durable custom steel stamps can be made for marking on flat, curved, concave or convex surfaces - for stamping part numbers, patent numbers, trade names, trademarks, special lettering, or other data. Durable Technologies' stamps for steel marking - the best steel marking tools available.
Click here to contact us to discuss your steel stamping die requirements.
This post was published on January 22, 2014 and updated on October 15, 2020.