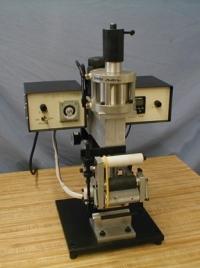 In the world of marking solutions, an often overlooked piece of marking equipment is the wire marking printer. This quick guide should give you the basic information you need when you are looking for a wire marking solution.
When looking for a wire marking machine or printer there are two types: manual and pneumatic. Regardless of which model of printer you choose, they can both be interfaced with wire processing machines. With small footprints, these marking machines are easy to integrate into your existing production line.
What can a wire marking printer do?
Besides the obvious, creating marking on wire, wire marking printers are a versatile marking solution for everything from 24 gauge wire all the way up to large battery cable and multi-conductor cord. They can also handle heat-shrink sleeving, stamping from 3/32" up to 2" I.D. Our printer offers an automatic foil feed which advances the foil after each impression is marked. Like all of our marking solutions, we offer a wide range of type, including custom engraved logos.
Curved Marking Type
If you are looking into a wire marking machine, it's a good bet that you're interested in finding a versatile and durable curved marking type. Our DuraChrome wire marking type offers a versatile wire marking solution. It is ideal for marking curved surfaces, insulated wire, and a wide range of similarly curved substrates. DuraChrome can comfortably mark outside diameters between 0.035" and 0.350"; in addition, our concave type can be used for marking various radii of medical vials, tubes, pen barrels, pencil handles and brushes.
Contact us with any wire marking printer questions you might have, or to request a quote at any time.
This post was published on October 22, 2013 and updated on March 19, 2015.