One of our most popular part marking solutions are steel hand stamps and we've dedicated a number of posts recently to discussing the various kinds of hand stamps that we manufacture. Steel hand stamps are versatile and long lasting, made from a special grade of tool steel to resist spalling and mushrooming. Steel hand stamps also allow for a wide range of design options and can be custom made to satisfy almost any part marking requirement.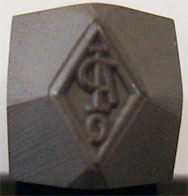 Since our hand stamps are so versatile and popular we wanted to dedicate a post to them and pass along some tips and best practices for hand stamping into metal. The following guidelines would also apply to using a hand held holder with steel type. We've broken down the hand stamping process into easy steps:
Make sure you mark on a solid, stable bench, located over a support or leg to eliminate any bounce or flexing of the bench surface. Use a large, flat piece of soft steel as a base to lay your parts on when marking with a steel hand stamp.
Choose the proper marking hammer size based on the following criteria:

If you're marking a single 1/4" tall character into mild steel you'll need approximately 2.1 tons of pressure. Choose a 3/4 to 1-1/4 lb. hammer. (Note - a more experienced operator can usually use a lighter marking hammer.)

When marking multiple characters using a hand stamp or hand held type holder the amount of striking force required is dramatically increased.
Place the hand stamp onto the part to be marked and rock it back-and-forth to make sure the stamp is laying perfectly flat on the part.
When hitting the hand stamp with a hammer only strike the stamp once; hit the stamp and pull the hammer away. If the hammer bounces on the stamp more than one time, you will end up with a double or triple impression. Speed and accuracy of the hammer blow when striking the stamp is very important.
We always recommend using a hand stamp holder to ensure operator safety while marking.
CAUTION: Wear safety goggles/eye protection whenever using a hammer and marking with hand stamps.
Contact us today to see how Durable Technologies can help you with your hand stamp and steel stamp requirements.
This post was published on April 16, 2013 and updated on October 15, 2020.