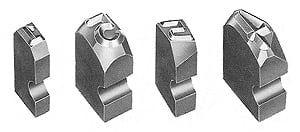 One of the most common part marking solutions available today is metal type. Metal type is used across a wide variety of industries and for many different applications.
Metal type characters are engraved raised or sunk on the type blank and are used for applications like indenting, embossing, debossing, branding, hot stamping, ink marking, tube sealing, mold inserts, and forging die inserts.
Metal type can be made from a variety of metals, but most often the application requirements dictate which metal is best. Aluminum, Brass, Tool Steel, High Speed Steel, Shock Resistant Steel and Stainless Steel are all commonly used for metal type stamping applications.
Aluminum Type: Can be treated or anodized with a hard coat and Teflon for an application where heat is used and sticking is an issue.
Raised Character Brass Type: Typically comes with a flat face character and used for hot stamping with foil, branding into wood or leather, and marking with ink either directly or using an offset process. This kind of type can also be used as mold inserts when making plastic parts, containers, or vials. Brass type outwears softer alloy metals like zinc and lead and holds up well when stamping with heat and/or pressure. Brass type produces a much crisper, cleaner mark than cheaper alloy types. Steel type is also available with flat face characters for longer production runs and improved durability.
Sunk Character Brass or Steel Type: Commonly used in tube sealing applications, Blow/Fill/Seal (BFS) aseptic packaging, or as mold inserts for plastic containers and vials. Steel type is also available with sunk characters for longer production runs and improved durability.
Steel Type: Steel type (both raised and sunk characters) is unmatched in durability and is typically the preferred metal for longer production runs. Steel type is generally used for stamping into steel and harder plastics in addition to all of the other marking applications mentioned above for brass. Depending on the application, steel type could last you a lifetime (assuming that you don't lose it first!)
Stainless Steel Type: This kind of type is typically used for "clean" manufacturing processes because it resists harboring bacteria, is less likely to rust, and can withstand the use of strong and harsh cleaning agents, making it ideal for the pharmaceutical and food industries.
Type blanks are also manufactured in several different body styles and sizes:
Straight Sided Type: Metal type is used in conjunction with type holders, either hand held or press style, and are usually used for marking on a flat surface. The metal type is interchangeable so copy can be changed easily and is usually held in place by using set screws or retaining pins. Single line and multi-line type holders are available.
Knurl or Wedged Type: Typically this kind of type is used in rotary wheel holders. The type is either grooved or stepped and is held in the holder by a cover plate. The type is mounted so they stick out on the O.D. of the holder. Typical applications include carton marking, screw machine marking, and continuous bar marking machines but are also frequently used in roll marking machines for marking flat parts.
Embossing or Debossing Type: To make a raised or sunk impression in relatively thin material, e.g. can lids, tags and seals. This kind of type comes in pairs, one male and one female type per pair. Typically made from tool steel or stainless steel.
Curved or Concave Type: Our DuraChrome type with concave characters are ideal for marking a wide range of insulated wire and other curved surfaces including medical vials, tubes, pencils, and more. Our DurAlloy brass type has a flat face character and is commonly used for stamping onto flat surfaces such as heat-shrink sleeving, nylon cable ties, and more.
Round Blank Type: Used as inserts in various round or flat type holders.
Type with more than one character on the blank are called logotype or logodies. Logotypes and logodies are ideal for commonly used phrases or codes where the text doesn't change like "BEST BY", "USE BY", "LOT", and "EXP" or month and year abbreviations such as "JAN", "FEB", "2013" and "2014".
We can also produce any typestyle not shown including custom typefaces and symbols if a high-quality proof or samples are provided (including foreign languages!).
This post was published on February 6, 2013 and updated on January 11, 2019.