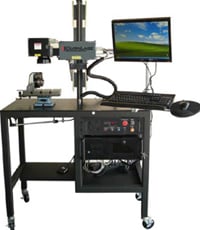 If you are searching for a laser marking marking system with zero maintenance and no consumables, an enclosed fiber laser system is for you. Industrial applications like marking, engraving, and etching are ideally suited to a fiber laser system. A fiber laser system is a non-contact, high-speed method of part marking that does not require hard-tooling, making it a versatile solution for both short and long run production cycles.
This is an environmentally friendly fiber laser marking system because it is energy efficient and has a low power consumption, while also being air cooled. It requires no alignment or adjustment of optics and the Fiber Laser is a complete system, bundling the hardware, software and PC.
To get an idea of how truly swift and effective this system is, we invite you to watch this short demonstration video of the system marking an electronic component.
This post was published on September 13, 2012 and updated on January 23, 2017.