Durable Technologies' dot peen marking systems, often referred to as pin stamp marking, is a direct part marking process used to mark alpha-numeric characters, logos, 2D Data Matrix bar codes and much more in precise, low stress dot patterns.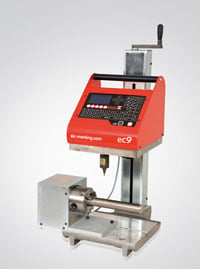 Dot peen marking technology is one of the most versatile marking solutions on the market today. Dot peen marking equipment capabilities range from simple nameplate requirements to completely integrated solutions for marking directly onto fabricated components in-line.
Durable Technologies' benchtop model dot peen offers a versatile marking station for small to medium size parts and can be used to mark a wide range of materials from plastics to metals up to 62 HRC. These electrically driven dot peen units require no air supply to operate making them a low cost investment with few consumables and little maintenance.
Benefits of Benchtop Dot Peen Marking Systems:
Marking of all kinds of materials up to 62 HRC
Electrically driven - No air supply required!
Low cost of ownership - few consumables
Robust and reliable - Steel / cast iron column & base
High performance - High speed
Simple and user-friendly - Powerful integrated software
Easy programming
Suitable for Aerospace applications (creates very little stress on the parts being marked)
See the videos below for example of marking tags and round parts using a bench top dot peen marking system.
This post was published on July 3, 2012 and updated on October 15, 2020.