Norwood 39V steel type is used in hot stamping equipment, typically together with a hot stamp ribbon for package date coding applications. In addition to the hot stamp ribbons (usually black), we also manufacture spacers and type holders in a variety of sizes to accommodate our type.
Norwood 39V steel type, like all of the OEM-alternative type made at Durable, is interchangeable with the versions offered by the manufacturer and is available in the standard range of letters, numbers, punctuation, month and year logos, as well as custom logos such as EXP, LOT, BEST BY, BEST BEFORE, and SELL BY.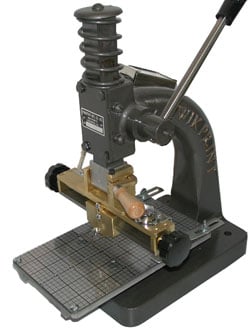 In addition to 39V we also manufacture replacement steel type in the following Norwood styles:
25EX
25TD
25TG
25TN
25TA
39VA1
26M
32J1
32J2
40V
40V1
Additional sizes available (call for more information)
Contact us today at 866-344-7721 for more information on our steel type and hot stamp ribbon for your hot stamping equipment.
This post was published on October 14, 2014 and updated on October 15, 2020.