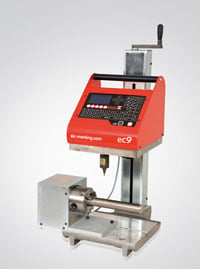 Dot peen marking, often referred to as pin stamp marking, is a direct part marking process used to mark alphanumeric characters, logos, 2D data matrix bar codes and much more in precise, low-stress dot patterns.
Dot peen marking systems are some of the most versatile and agile marking systems on the market today. Dot peen markers are most often used to mark small to medium size parts, and capabilities range from simple nameplate requirements to completely integrated solutions for marking directly onto fabricated components in-line.
Benchtop Dot Peen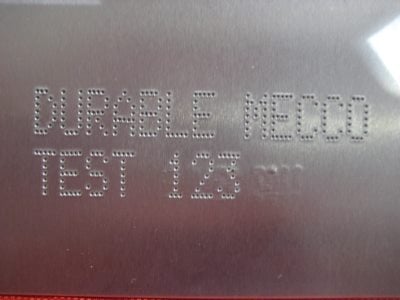 For small to medium size part marking a benchtop dot peen marking system is a good solution.
Durable offers two benchtop dot peen marking system models, but both share some common characteristics. For instance, both systems can mark many types of materials up to 62 Hrc and are electrically driven, requiring no air supply. These systems require few consumables and are robust and reliable (both have a steel and cast-iron column and base), so they offer users a low cost of ownership.
Both systems are also easy to use with simple and user friendly integrated software. They are easy to program and offer high speed, accuracy, and high performance marking.
Check out one of our benchtop systems in action below!
Portable Dot Peen
Sometimes things like part size or orientation make a traditional benchtop marking system difficult or impossible to use. In cases like this, a portable dot peen marking system gives the operator the flexibility to mark almost any large or heavy part.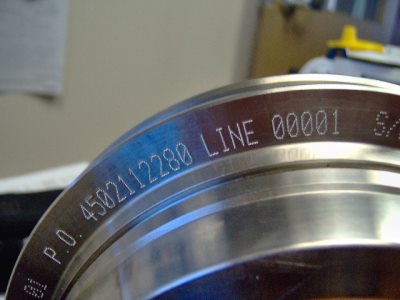 We offer a number of options for our portable dot peen marking system that expands its capabilities. Some of these options include:
Column and base for benchtop marking
Cart and battery
Barcode reader
Hook and balancing system
Extended maintenance kit
Customized front plates (magnetic clamping)
Portable systems are both lightweight and easy to handle, making them a popular marking solution and with the options available they are also a versatile marking solution.
Learn More
Download the Dot Peen Marking Brochure to learn more about dot peen marking, or contact us to learn more about our complete marking solutions.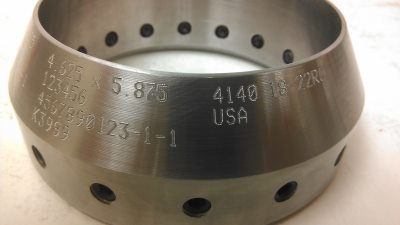 This post was published on December 5, 2017 and updated on June 28, 2018.