States create weights and measures standards so that businesses and consumers can ensure that the things they are creating and buying are measured accurately and consistently. The Wisconsin Department of Weights and Measures is required to permanently mark a lead seal for each cast iron weight they produce. This seal is the last step in the verification and authentication process and permanently marks the seal and weight with the state initials and year. This seal ensures that no one can tamper with the weight and the seal is the last thing done to broadcast to the world that this is an accurate and official weight from the state of WI.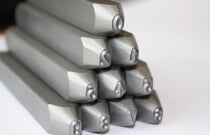 When the costs of the steel hand stamps WI was buying started to go up exorbitantly, Richard McCann from the State of Wisconsin Department of Weights and Measures decided to do what we all do and go to the Internet in search of an alternative. That's where he found Durable Technologies.
Durable Technologies created a series of steel hand stamps for the laboratory to mark the lead seal for all of the cast iron weights used for measuring standards, including 1000#, 500#, 50# and other smaller weights
Richard McCann states that "we were happy with the efforts Durable made to understand our process, materials, and specific requirements and the prices were right. We saved about 55% compared to the costs of hand stamps from our previous supplier."
Durable Technologies creates and manufactures steel hand stamps for custom marking applications. We manufacture all of our steel hand stamps, uniquely to your specifications. Our proprietary processes and depth of experience allow us to create cold forged steel hand stamps that provide extra-long service life. All of the hand stamps are made from a special grade of tool steel. This unique combination delivers a hand stamp that will resist spalling and mushrooming and are the safest product your operators can use.
Simple or complex text, logos and designs are all made-to-order. Sizes range from the tiny steel hand stamps used to mark jewelry to very large steel hand stamps used for marking steel slabs. Characters can be sharp face, low stress full character, low stress dot character, or customized to your specific marking requirements.
Also available:
Contact us today to see how Durable Technologies can help you with stamping knife blades or any other hand stamp or steel stamp requirements.
This post was published on November 14, 2013 and updated on October 15, 2020.