At Durable Technologies, we are proud of our broad industrial marking product line with 100+ years of application experience and expertise and our commitment to our customers' success.
We have created a new resource for our manual or traditional marking customers and connections. We hope you will download this guide and learn about the many ways you can permanently identify just about anything in a manufacturing and industrial environment.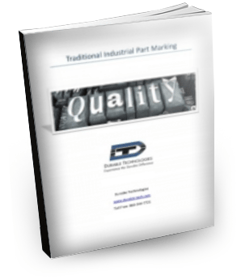 Topics we cover in this guide:
Character Styles
Hand Stamps
Hand Stamp Holders
Hammers and Safety Considerations
5 Steps to Clear Hand Stamping
Steel Stamps and Dies
Roll Dies, Embossing Dies, and Inserts
Steel Type and Holders
Hot Stamping
Durable Technologies is your "One Stop Shop" for all of your industrial marking and identification requirements. Our complete offering of industrial marking tools and supplies includes steel stamps and dies, sharp face steel type, embossing type and dies, type holders, hammers, inline CNC markers, industrial Mil-Spec inks, rubber stamps and pads, paint markers, numbering heads, QC inspection stamps, stencils, nameplates, mold engraving, part marking, ID tags and more.
Our three divisions – Durable Mecco, Durable Machine and VisiMark – provide marking machines, industrial marking tools, package date coding and hot stamping solutions for a wide range of industries and applications.
Check out the new Guide to Traditional Industrial Marking by clicking here or on the graphic below.
This post was published on March 15, 2016 and updated on August 27, 2019.