Industrial markers can be found in environments as diverse as factory floors and outdoor construction sites. These markers are designed to be highly pigmented, create clear and crisp marks, and reliably last in even the harshest environments. Some styles of industrial markers, however, are designed to be removed, either with detergent or water.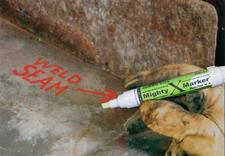 The type of industrial paint marker that is appropriate for your application will be influenced by a number of factors, including:
Surface to be marked
Weather elements
Extreme conditions (heat, cold, etc.)
Durability of mark (permanent versus removable)
Post-mark processes (solvents, coatings, etc.)
What Types of Industrial Paint Markers Are Available?
We offer a number of different industrial paint markers to suit a wide variety of applications. Our options include:
General Purpose Markers:
Mighty Marker – An oil-based paint that is ideal for both indoor and outdoor applications. Can reliably mark leather, stone, rubber, wood, and metals.
Artline Markers – A fast drying, highly fade resistant, and opaque marker that is legible even on dark and transparent surface, this marker can be used on almost any surface including glass and plastic.
Specialty Markers:
Xylene Free Industrial Marker – This is an alcohol based marker that is environmentally safe and friendly.
Wetrite Industrial Marker – This marker has been specially designed to write on wet or damp surfaces.
Whiteboard Marker – These markers are designed for working on porcelain, enamel, and melamine.
Detergent and Water Removable – These markers are designed to be removable with either an alkaline detergent or water.
High-Temperature Marker – This marker features specially formulated ink for marking high-temperature substrates (800° to 2,000° F).
Long Nib Industrial Marker – This marker is ideal for marking in hard to reach spaces like circuit boards, behind fixtures to be installed (brackets), screw holes, etc.
Hi-Purity Industrial Markers - Permanent marker that is safe for use in Nuclear Power plants on pipes and vessels.
What Our Customers Are Saying
Durable's industrial paint markers made their way to Garrett Denton, the youngest winner in NASCAR Whelen All-American Series history so that he can record Make-A-Wish donators permanently atop his car.
From Garrett Denton's website:
"Durable Technology stepped in and donated markers so that your name will last the entire season on the star that you sponsor. It is important to Garrett that everyone who supports Make-A-Wish this season is visible in lasting ink throughout the season on their star. Durable Technologies had just the marker. The "Mighty Marker" is an industrial strength marker that will be permanent on any surface. Thank you, Durable Technology, for your quick response and generous offer to supply these markers. Wow! They arrived the very next day."
Read the full story here.
Learn More
You can learn more about our full line of industrial paint markers here. You can also contact us at any time to request a quote or to discuss which of our industrial paint markers is right for your application.
This post was published on May 2, 2017 and updated on May 10, 2017.