AFM Engineering, located in Santa Ana, CA, specializes in refurbishing, rebuilding, and selling hot stamping and other manufacturing processing equipment.
When their long-time hot stamping steel die supplier no longer met their quality and professional requirements, they searched the market and found Durable Technologies.

"Durable Technologies makes a first-class hot stamping steel die. We've used them for a few years, and they do it right; there has never been a problem with anything they have made for us", says Dick Olhoffer, Sales Manager at AFM Engineering.
One recent project required Durable Technologies to make steel hot stamp dies designed to be 12" long and 2.5" wide. These are used to mark unique polypropylene parts that were previously silk-screened.
The polypropylene parts needed to be pre-treated for silk screen printing, but this process was inconsistent, and the printing would come off. This defect was a major issue because the end customer would reject the entire lot if any markings came off the parts.
With hot stamping, heat and pressure take care of any oxidation on the surface, and the marks are permanent and much more consistent.
AFM Engineering rebuilds and refurbishes hot stamping, pad printing, and ultrasonic machines for consumer goods, housewares, medical, and automotive markets. Hot stamping steel dies are used to mark logos, text, child warning labels, part numbers, and just about any other form of direct part marking for product identification.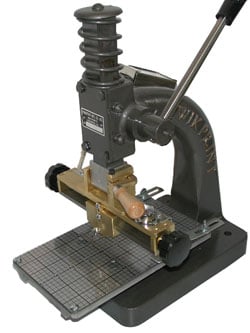 Durable Technologies manufactures and supplies an extensive array of brass and steel type and dies, printers' type, monogramming type, Kingsley® wire marking type, heat shrink sleeving type, type holders, magnesium dies, branding irons and dies and much more.
Steel type is unmatched in durability and is ideal for marking harder plastics or long production runs. Our steel type is made from hardened and tempered tool steel, which keeps replacement costs to a minimum.
Custom logo dies can be produced with any wording or design, in brass or steel, for stamping applications where your text remains constant.
Our logo dies are typically made type high (.918" / 23.3mm) to fit in most standard type holders but can also be machined to any size to fit your present type holder.
Click here for more information on our Hot Stamping Foils and Ribbons.
Click here to contact us about your hot stamping die requirements.
This post was published on November 30, 2022 and updated on November 30, 2022.