American Calan is a specialized company that designs and builds agricultural equipment used in the feeding and data collection of large animals residing at agricultural research centers throughout the world. Located in Northwood, NH, American Calan provides testing, monitoring, and feeding systems that have some specific traceability requirements, one of which is unique identification for component parts.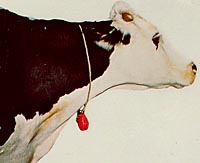 American Calan is required to stamp a series of unique numbers or letters onto a nylon injection molded part. This part needs to be uniquely identified as it is a key that is worn around the cow's neck. This hollow key contains an electronic RFID device that gives the cow's a specific identification number that allows the monitoring and feeding systems to be keyed to the correct cow. This electronic feeding system monitors the cow and how much they eat as well as granting access to a feeding tub for a particular animal.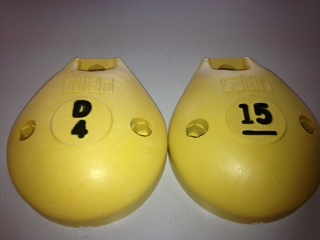 American Calan uses a 40+ year old hand held hot stamper to press a unique mark into each nylon half of the key. The hot stamping machine requires a custom die holder with steel type to be heated up, thus allowing it make an indelible mark on the injection molded nylon key half.
Doug Briggs, President of American Calan, says "when our old dies and steel type were lost we were forced to find a replacement for an old and unique system. We found Durable Technologies online and within a few weeks we had all of the dies and steel type replaced. We were very impressed with the knowledge of our application and response times from the Durable Technologies team. Our original type was made from brass but Durable suggested we use steel type because it was easier to get in a rush and seems to work even better than the brass."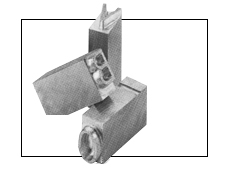 Durable Technologies' steel type is unmatched in durability and is ideal for marking harder plastics or long production runs. Our steel type is made from hardened and tempered tool steel which keeps replacement costs to a minimum.
Please contact us if we can be of help with you part marking requirements. From agriculture to bookbinding to electronics manufacturing to blacksmithing, we help you make your mark!
This post was published on March 11, 2014 and updated on October 15, 2020.